Get rewarded for eating at the Colwood Grill with our Frequent Buyer Card. This loyalty program is FREE to join and cardholders earn a FREE entree for every 10 that are purchased with the Colwood Grill Frequent Buyer Card. Cardholders will also be eligible for exclusive specials from Colwood Golf Center via email.
Frequent Buyer Cards are available from the Colwood Grill. Swing by and ask our servers about getting your card today!
---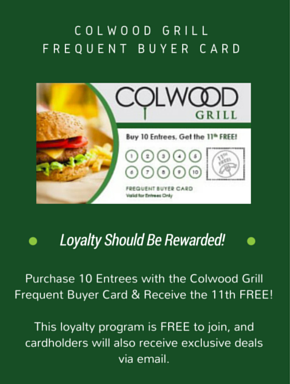 Click Here to learn about how you can get rewarded for golfing at the Colwood too!